TRENDY CAFÉS IN BANGKOK YOU SHOULD CHECK OUT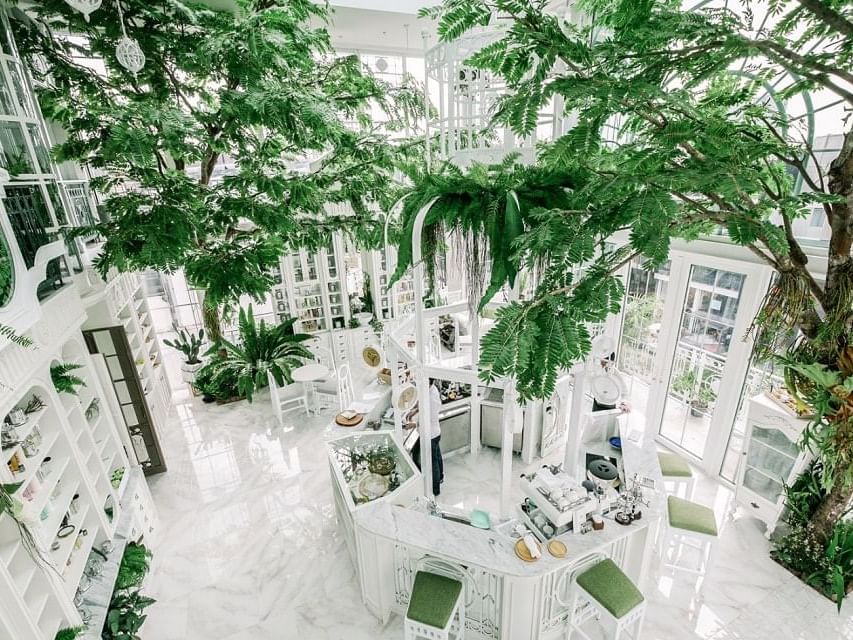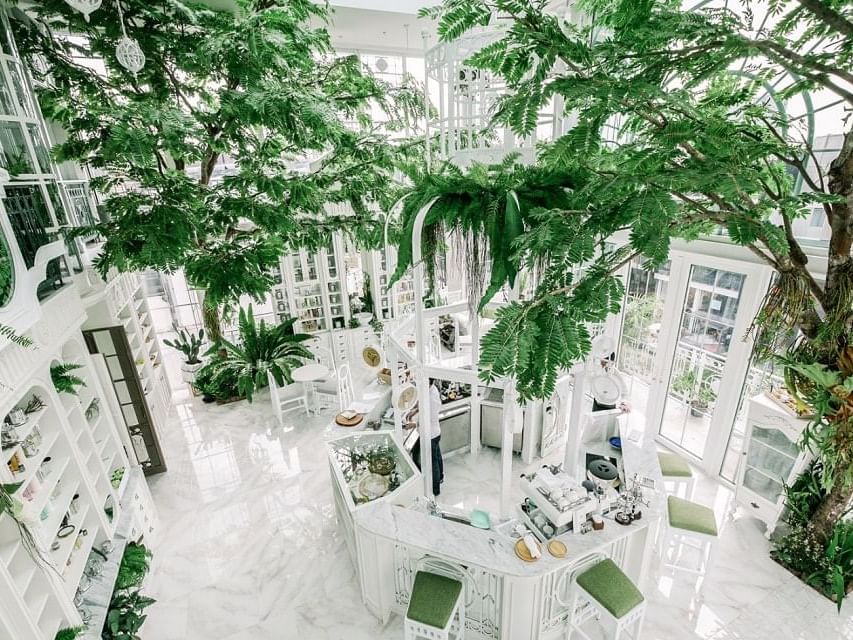 Rain or shine, day or night, Bangkok attracts many who fancy discovering the city's latest trends. Other than the new pop-up retails making waves in 2018, trendy themed cafés have also emerged all over the city, providing new hot spots for both coffee lovers and digital users who love sharing their experiences online. Let us pin down some of Bangkok's must check-in places for you to check out.
1. Immerse in the Organic Scents of Nature
Image courtesy of Organika Cafe & Restaurant
Launched by famous Thai celebrity, Ms Sririta Jensen, Organika Café & Restaurant is an alluring café set amidst a beautiful glasshouse with nature-friendly interiors. Offering organic dishes and a variety of delectable desserts, the fairy-tale tea party setting features a fine selection of coffee and tea, with charming names such as Memoirs of Sunrise, Lost in Neverland, Secret Rose Garden, Kisses of Jasmine, Into the Woods and Ocean of Dreams. Other than an array of scrumptious dishes, including all-day brunch items, pasta and risotto, Organika also offers the special Love Affair, which describes their cocktail and dessert pairing menu perfectly.

Organika Café & Restaurant
Soi Sukhumvit 49, Watthana, Bangkok
Daily, 10am to 11pm
2. Appreciate a Refined Thai Lifestyle
Image courtesy of Baan Suriyasai
Transformed from an old house designed by an Italian architect during the reign of King Rama VI, Baan Suriyasai introduces the concept of 'Soontaree Life', a leisurely approach of enjoying the finer things in life, with unique experiences from its Thai restaurant, Tearoom, Content Bar and cooking and creative classes. Baan Suriyasai Thai restaurant offers an elegant fine dining experience, showcasing exquisite recipes from the Thai royal court and noble homes. The luxurious Tearoom offers a selection of traditional tea, including Baan Suriyasai Signature Tea Blends, complemented by beautifully crafted Thai treats and western-style savouries and desserts. Indulge in 'Soontaree' at Content Bar on the second floor, which serves unique Thai-inspired cocktails and a wide range of spirits, beers and liquors. You can also attend classes, conducted by world-class chefs, to fully appreciate the art of Thai culinary, including authentic recipes, fruit and vegetable carving and garland making.
Baan Suriyasai
Surawong Road, Bangrak, Bangkok
Daily, 12pm to 2.30pm, 6pm to 10pm
3. Smell the Coffee amidst a Flowery Ambience
Image courtesy of Floral Cafe at Napasorn
Napasorn, a famous flower shop which has been operating for 20 years at one of Thailand's largest flower markets, Pak Klong Talad, recently launched a new café, Floral Café at Napasorn, on the market's second floor. Amidst its blossoming interiors and vintage-style decorations, the café offers an array of beverages and scrumptious homemade desserts. A fine selection of coffee and tea are expertly blended with a subtle floral fragrance, while seasonal ingredients, flower petals, fresh and dried fruit are cleverly used in the café's menu. Signature items include Chocolate Raspberry Cake, Raspberry Rose Ice Cream and the uniquely blended Minty Rose Tea.
​
Floral Cafe at Napasorn
67 Chakkraphet Road, Phra Nakhon, Bangkok
Daily, 10am to 10pm
4. Indulge in Original Thai Desserts
Image courtesy of Cher Cheeva
Decked with modern Thai wooden furnishings and fresh flowers, Cher Cheeva serves traditional Thai desserts and offers three original afternoon tea sets. Inspired by the names of the different levels of heaven in Buddhism, the afternoon tea sets - Yama, Dusita and Nimmannoradee - feature various felicitous desserts presented in exquisitely crafted small wooden cupboards, complemented by tea or homemade herbal drinks. In addition, the café features different delightful desserts weekly, including Pla Hang Tangmo, Phra Pai and Khao Fang Piak, as well as a range of refreshing drinks to quench your thirst in the tropical climate.

Cher Cheeva
342/3 Phayathai Road, Ratchathewi, Bangkok
​Daily, 12pm to 5pm
5. Enjoy a Whimsical Dining Experience
Image courtesy of House of Eden
An attractive peach-coloured café recently opened on the second floor of Siam Discovery. House of Eden is jam-packed with crowds daily due to its meticulous design, combining peach and rose gold decorations to create a magical, Insta-worthy setting. The café features a fusion menu, including Kurobuta with Mala Sauce, Spaghetti Kee Mao Talay and Tom Klong Pla Krapong Tod Krob. To satisfy your sweet tooth, the dessert menu is filled with impressive choices, such as Thai Tea Creme Brûlée, Dark Chocolate Berry Tart, Lemon Meringue Tart and Apple Eden Ice Cream. With a delicious variety of beverage options on offer, including Toffee Nut Frappe, Rose Milk Frappe, Punch Soda and Passion Sunrise, it is no wonder that House of Eden has gained such popularity in the highly competitive dining scene in Bangkok.
​
House of Eden
Level Two, Siam Discovery, Bangkok
​Daily, 10am to 10pm